Moos News 8/15/17
Good afternoon,

Have you made plans to attend the Illinois State Fair? I always enjoy going and especially the fair food!

We have received lots of new Fall and Halloween fabrics. Now is the time to get started on those fall projects. Shop early for the best selection! You have to see (and touch) these beauties to really appreciate them.




The skeletons and pumpkin fabric glow in the dark. . . Would make a cute trick or treat bag!




Upcoming classes & activities:

8/16 10:30 Jersey Gals Quilt Guild
8/30 11-2 Free Motion Quilting (on your domestic sewing machine)
8/30 2-5 Skinny Chickens Wall Hanging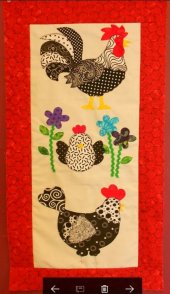 9/6 11-2 Pumpkins for Sale
9/9 11-2 Pumpkins for Sale


9/13 11-2 Blazing Star


9/20 10:30 Jersey Gals Quilt Guild


Sept. 1, 2017 is the deadline to order your CISH t-shirt....

Shops participating this year are: Piece to Peace Treasures Macomb, Ma's Got a Notion Havana, Quilted Cow Emporium Jacksonville, Sew Unique Springfield, peace and Applique Rodchester, peace and Applique Too Bloomington, Quilters Delight Clinton, The Treadle Bloomington, Sewing Studio Normal, The Quilt Corner Morton, Peddler's Way Quilt Co. Washington, Prairie Points Peoria, Nonnies Attic Pekin, Make it Sew Lincoln IL. The Quilting Bee Galesburg and Feed Mill Fabric and Qulting, Oneida. Note: These are all independently owned shops that specialize in furthering your quilting and piecing education, and new techniques in the market place.

Come be part of the fun and be recognized by others who are also in the sisterhood/brotherhood of the quilting world during these two special weekends presented to you by members of "CISH" Central IL Shop Hop. The special activities weekends happen: Fri. & Sat Oct. 13 & 14 and 20 & 21. Lots of great FREE PATTERNS! (16 in fact), door prizes, games, individual shop gifts, food treats and a 15% discount on the "special" that each individual shop offers up! Come be part of the fun!

That's all for now.


Quilted Cow staff